Enjoy a Straddie beer as you fly over the scenery it's named after.
Let's get started
What is this?
An experience for adventure and beer enthusiasts alike. Get onboard your own private plane and enjoy a curated, inflight tasting of Straddie Brewing Co beers, whilst being flown over the scenic places they're named after. Fly a lap of the island before landing at the brewery to continue your adventure.
We know it's hard to imagine, so let us show you how your journey unfolds.
Get Onboard
Archerfield Brisbane
Arrive at our departure lounge at Brisbane's Archerfield Airport, and begin settling into island time. We'll get you aboard your private light aircraft and shortly have you airborne so you can start taking in the scenery.
Enjoy views of Brisbane and as far as the Gold Coast as we climb to an altitude that'll let you witness first-hand the breathtaking scale of Minjerribah, North Stradbroke - the second-largest sand island in the world.
Your first tasting
Jumpinpin IPA
Start your curated beer tasting with a Straddie Brewing Co Jumpinpin IPA, as we track toward our first scenery pairing, Jumpinpin.
Turning overhead this iconic bar, you'll be able to get photos of the turquoise blue ocean below as we circle over the island's southernmost point.
Your second tasting
Point Lookout Lager
We'll then turn to track up the island's longest beach toward the soaring cliff faces of Point Lookout. We'll fly along at a low level, allowing you to take in the island's natural wilderness on one side, and majestic sea life on the other.
Whilst en route, we'll crack open our next paired tasting; the Point Lookout Lager.
Last drinks
Amity Pale Ale
Turning overhead the cliffs of Point Lookout, we'll make tracks towards our final scenic spot, Amity Point.
As you take in views of Manta Rays and the iconic Cylinder Beach, you'll tuck into your final pairing, the Amity Pale Ale.
Prepare for landing
The Brewery
Finally, we'll make our landing into Dunwich, passing over the township and our brewery. On landing, your shuttle awaits to whisk you to the brewery so you can enjoy eating and drinking the rest of Straddie Brewing Co's best.
On arrival at the brewery, the world is your oyster: enjoy a brewery tour (with tasting paddle)*, spend a few nights on Straddie, catch the water taxi back to the mainland, or, opt for a return flight to Archerfield* with us later in the day.
*optional extras
We recently had luxury travel magazine, Executive Traveller join us for a tour.
Get a taste for the experience you'll enjoy too by watching their reel and reading the review.
Return flights departing your choice of either Archerfield or Dunwich, with a full 50 minute lap of Straddie, landing at our Island brewery in Dunwich, North Stradbroke Island.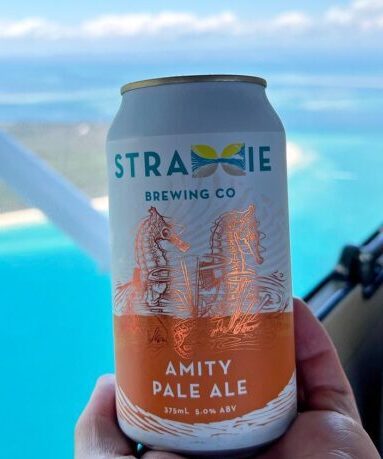 THE IN-FLIGHT BEER TASTING
A curated, in-flight beer tasting experience, featuring 3 x 175ml of our most popular beers paired with the iconic island places that inspired them. 
Transfers from Dunwich Airfield to our three-storey brewery; fresh craft beer, island fresh food, and spectacular ocean views. The home of Straddie Brewing Co.
The option to add extras, such as extending your tour to include a fly-by of Q1 on the Gold Coast, a flyover of the Tangalooma wrecks, a brewery tour with tasting paddle, or our "Beer 'n Bed" experience staying overnight in your own private brewery suite.
In conjunction with your brewairy tour experience, you can choose to make it even more memorable with a range of optional extras.
Born out of a love for North Stradbroke Island (Minjerribah) and great tasting beer, crafted for the enjoyment of Straddie-lovers, old and new. Straddie Brewing Co's beers pay homage to the place where time stands still.
Sitting atop a natural aquifer, North Stradbroke Island, is a story of sand and water coming together to produce some of the softest, sand-filtered water; a key ingredient in the art of making beer.
We're devoted to making fresh beer, full of flavour, inspired by place and island time.
As a beer enthusiast and pilot who's spent many hours enjoying Straddie from the air, Brendan instantly recognised that this beer and place pairing just had to be shared as a view from above. A way to get to the brewery, whilst fully settling into island time; tasting Straddie Brewing Co's beers while flying over the places they're named after.
A perfect entrée to the brewery experience and Minjierribah's natural beauty.
A one-of-a-kind opportunity that we now invite you to enjoy with us. The only inflight beer tasting paired with the places they're named after, in the world. We can't wait to meet you and welcome you onboard the Straddie Brewing Co Brewairy Tour, as we know you'll love it just as much as we do.
Cheers to that!
All flights are operated by our trusted partner, Flight One.
Founded on a clear principle of 'safety first, safety always', Flight One live by their singular focus of ensuring aircraft, pilots and operations deliver excellence in general aviation. From training, to group maintenance operations, Flight One is dedicated to delivering you a safe and exceptional experience.
on Facebook @straddiebrewairytour
Follow us ON Instagram @straddiebrewairytour
Enquire now for more information